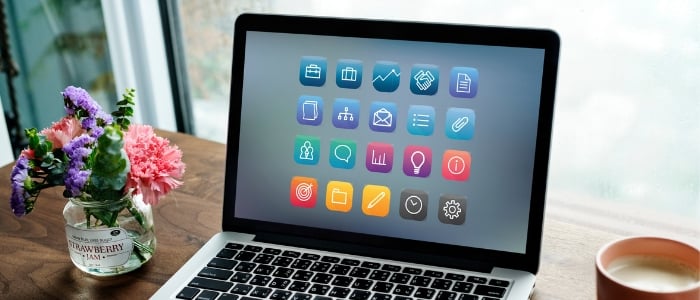 In only 14% of organisations, the PR and communication department is going through a process of digital transformation.
This seems rather odd to me compared to 42% for the marketing and advertising department.
14% to 42% is a big gap.
I recently discovered one of the reasons for this.
I flew to Copenhagen early this month to attend an internal training for a rather large organisation where I was asked to be their keynote speaker and specifically present on digital communication and digital communication trends.
As it turns out, fear is one of the key reasons why the PR/communication department is behind when it comes to digital transformation.
Comms professionals fear technology. They fear the unknown. They fear experimentation and failure. They fear change.
But as I said in my presentation, fear only holds us back.
Digital transformation requires change. Yes, change can be scary and change can create resistance but change is good because change means progress.
And change starts with inspiration, with the urge to try something small and witness that it works.
That's why today, I want to share with you the slides of my presentation and list out 9 key digital communication trends I researched over the last few weeks with the goal to inspire you to think about what you could try next and just test it.
Do You Live and Breathe Digital Communication [Slidedeck]
And here are the digital communication trends from the presentation.
9 Digital Communication Trends to Watch Out For
#1 Connected Engagement
Brands begin to use connected devices to continue engaging with customers post-purchase.
There's no reason why communication should stop once the customer purchases or the employee has been hired. Mobile apps and connected devices such as the Fitbit app allow you to inform people of new features, upgrades or related devices and friend's activity. These messages are relevant and in real-life.
#2 From Screens to Senses
AI enables the shift from browser or app interactions to interactions with our senses.
Sensory interaction - voice, visual, gesture - is significantly different from screen interaction - it frees people to communicate in whatever style they prefer, but is more challenging to design for. It's how people naturally relate to the world. And it's how they are starting to search too - have you tried Google Images search?
#3 Towards Trust
Communicators shift from managing touch points to creating trust points.
We no longer differentiate between real and fake news and as sceptical audiences we don't trust brands. Digital communicators need to map out trust points throughout the customer journey and work even more with influencers to create and deepen trust. That applies to internal communication too.
#4 People Leaving Social
Consumers are using more tools for a digital detox.
People are beginning to leave social networks seeking to detox because they've become conscious of how they spend their time online. They are more careful about the content they consume searching for meaningfulness more than anything. The news industry is leaving Facebook as well.
#5 From Feeds to Groups
People are seeking closed communities and stories they can trust.
Platforms will step up their battle against misinformation and disinformation but the problem shifts this year to stories, closed networks and community groups that naturally create more trust for people like WhatsApp. However, this type of closed engagement becomes harder to get into, track and control so WOM is key here.
#6 Subscriptions for News
Subscription and membership is the key priority for the news industry in 2019.
Over half (52%) expect this to be the MAIN revenue focus in 2019, compared with just 27% for display advertising, 8% for native advertising and 7% for donations. This is a huge change of focus for the industry according to research by Reuters Institute and Oxford University.
#7 Audio in Journalism
Audio and voice are becoming key for publishers and businesses.
With many publishers launching new daily news podcasts, the majority (75%) think that audio will become a more important part of their content and commercial strategies. For 78%, emerging voice-activated technologies (Amazon Alexa and Google Assistant) will have a significant impact on how audiences access content over the next few years.
#8 Platforms to Video & TV
Storytelling takes on a whole new level.
Online video is set to be a key battleground, especially with subscription-type businesses like Apple Music, Amazon Prime, Spotify, Netflix, Facebook Watch, IGTV as ways to re-invent TV and music in a more social and interactive way for B2B, B2C and employees as stakeholders.
#9 The Math is Coming
2019 is the year when the "Mad Men" are starting to hire the "Math Men".
Content teams are starting to hire more and more data analysts who can dive deep into data and identify trends and issues around the customer, media or employee journeys and their experience with brands including communication and engagement.
How do you adopt digital in your organisation?