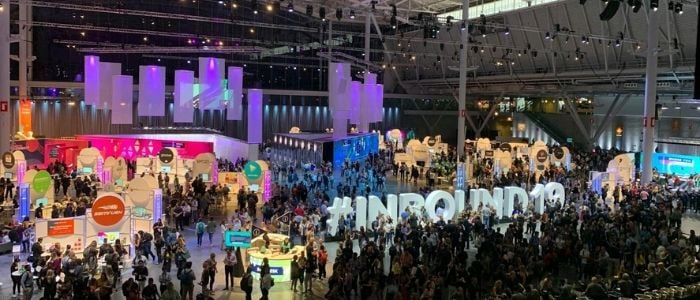 Last week, September 5th, was my last day at HubSpot after almost five years at this amazing company.
It was a sad day as I'll miss all the incredible people I've met. I've learned so much at HubSpot. I'm beyond grateful for my experience at the company but the time had come to move on from Ireland and find another home for myself. And now that home is Amsterdam with a new job at Cisco.
This is not going to be my first international move. It's now been 10 years since I left my home country Bulgaria at the age of 19 and went to study International Business in Germany. With a scholarship two years later, I also spent a year and a half in the UK before returning to Germany to graduate and get my first job.
Then came HubSpot. They found me on LinkedIn and reached out because of my fluency in German, agency experience and ability to create content thanks to this blog.
I still remember the day(s) when I had difficulty packing my 250 kg of clothes and shoes to move from Germany to Ireland and join an 80-people team in HubSpot's Dublin office.
It's been a fantastic journey to see how far DubSpot has grown in just five short years as the office is now almost 700 people in addition to 100 or so people in Berlin and Paris.
When I close such a big chapter of my life, I tend to reflect on it and I want to share with you my key learnings from my time at HubSpot.
Here we go.
The Best Thing Are the PEOPLE
I had never considered moving to Ireland and I was very hesitant when Emma Mc Carthy - the recruiter - reached out on LinkedIn asking if I would be interested. I decided to take the call with her purely out of curiosity but then as I got to know the Director of Customer Success Colleen O'Sullivan, the amazing manager at the time Amanda Whyte, the leader of the whole office and international expansion Jeetu Mahtani and the VP of Customer Success at the time Frank Auger during my interviews, I desperately wanted to join this company because of the people.
To this day, I'm amazed at the amount of talent HubSpot has recruited; I'm amazed at the ideas, creativity, hard-working mentality and perseverance of the team; at the humble minds and hearts of everyone who goes above and beyond day in and day out to make our company better, to help others or to drive an innovation.
I learned something new every day. And I learned from the people. There's nothing more rewarding than that for someone who wants to grow - personally and professionally.
The Customer Has Become Key
I'll be honest here. When I joined, everything was about Sales. I joined the Customer Success team so almost every day felt like a battle with the other department that we were losing. HubSpot has become so much better at this alignment and I think the customer has played a key role in that.
The co-founders Brian Halligan and Dharmesh Shah are adamant about this and there's a ton of efforts around improving the customer experience not only with regards to the products that HubSpot builds but also with the ambition to create an entire Customer Code for the teams to follow throughout the customer journey.
No One Else Can Build Your Career But YOU
Career and career journeys have often been a 'chilli' in HubSpot internal feedback survey.
Many people expect that once you join, there will be a clear path for you and that you can just tick the box at each step as you go along.
I hate to break it to you but that's just not the reality and it seldom is in any company, even though a certain career path might be more structured.
There are many opportunities at HubSpot and everyone has the choice to climb the career ladder horizontally or to change direction. In my opinion, the only way to uncover your career journey is not to follow a pre-designed plan nor to wait for someone else to tell you what to do. The only way to uncover your career journey is to discover your passions, your strengths and to use them to figure out how you can solve a problem. Once you have achieved that then pursue your career path very thoughtfully and deliberately and most importantly, keep pushing.
At HubSpot, you have many options in which area you wish to work in - Sales, Customer Success, Marketing, Product, IT, HR etc. In general, within all of these, there are two career progression paths - growing into a manager and above (i.e. people management which turns to owning a business unit later on) or individual contributor.
The first one is pretty straightforward - individual contributor, manager, director etc - and there's a lot more support around that. The latter is a little different, one where you are in control and you'll have to figure out and keep pushing to get there.
Knowing my skills set and growth ambitions, I chose the latter - individual contributor. Quite frankly, as with most "roads less traveled" I struggled. Unfortunately, as yet, HubSpot hasn't figured out the best career plan or path for those who choose to be individual contributors. How to help strong, self sufficient people be successful, demonstrate impact and help them grow is hard for most organisations and in HubSpot it was no different. Such individual growth is very much tied into whether you work with a manager or a leader. Is that person going to advise, invest, mentor, coach and champion you so that you can grow? These are questions to ask yourself in any organisation that you join and wish to grow as an individual contributor.
Other questions to ask yourself is where are the growth opportunities in your organisation? I found that in HubSpot most were located in HubSpot's HQ in the USA. Moving to the USA is not of interest to me right now. With 99% of decision-making and key leadership being based in the USA, I knew I had to keep growing internationally and it was time to move on. As my role at HubSpot was a global role, I gained a lot of experience and exposure to global leadership and customers which enabled my next international move to Amsterdam.
Regardless, HubSpot is a really great company so here are some of my top tips on how to grow a career at HubSpot and not only based on my own experience.
My 3 Top Career Growth Tips
#1 Work Hard, Show Results
First things first: Master your day-to-day job.
I love the enthusiasm of everyone new who joins and starts thinking about all the other things they can do and achieve. I love that and it's important to have ideas and aspirations. However, if you were hired for a specific job then the best thing you can do is focus solely on that, learn it in and out and once you do that, you'll become so efficient so that you'll have time to work on all the other brilliant ideas you had in the beginning.
When you show results, this will build your self-confidence and your manager will also feel confident that you can do your job which then enables him or her to enable you to work on some experiments or try different areas to discover more of your strengths and passions.
#2 Discover and Solve Problems
People always say at HubSpot that to get the promotion, you should already be doing the job.
This happens by discovering problems, throughout your day-to-day experiences, your work with customers or partners, your conversations with other HubSpotters etc., and finding ways to solve challenges.
To solve a problem, you need to be passionate about it because often it might be something that's out of your normal job duties and so it turns into a truly rewarding learning journey.
When I was a Senior Channel Consultant (CC) in our early days in Dublin, I found out that we were going to be hiring a lot of new CCs on our team and I realised that we didn't have a proper onboarding and training programme for the CCs. Everything was ad-hoc and it took up a lot of our manager's time. I identified that we needed a better, more scalable solution to this so I created a 3-months new hire CC onboarding programme that I eventually scaled into the global program for new CCs. Having not only created it, I then pitched it to the director and the manager to manage it. And so a few months later, a Principle CC position was posted pretty much with the same requirements as to creating and managing a CC onboarding programme and guess what - I applied and I got it because it was basically the job I was doing anyway.
So don't be afraid. Give it a go. Be brave and try it. Companies need ideas and need people who are autonomous and willing to go above and beyond. That's why they hire you and invest a lot of money in you.
#3 Ask for Guidance
As you discover problems to solve, there will be a lot to figure out and probably a lot of things you don't know. That's okay. It's part of the learning process.
Find out who you can talk to - someone who's done something similar before, your manager, a colleague or why not someone outside of HubSpot too.
It's always good to run your ideas by someone else to see what you might have missed or just to get a fresh perspective. Equally, it's important to get help in the areas where you are not an expert so that your project is successful.
I've used a programme at HubSpot called Unstuck multiple times when I've needed some guidance because this programme matches you with someone senior who has experience in the area you need help with.
Also, be adamant about your performance reviews and how you are doing and really ask for them - I wasn't too good at ensuring that I get my regular performance reviews done at my last position as Global Partner Program Manager and so for two and a half years I had very few and had to seek feedback from other people across the company. But feedback is so key because it enables personal and professional growth. Seek tips from your manager on how to get to the next level and ask them to open up doors for you. It's important to know what impact you are making because that's going to motivate you even further.
#5 Build and Promote Your Own Reputation
There's this thing at HubSpot called 'the wiki' - it's an internal wiki that has everything there.
And many people hate it because it's hard to search and find something.
If you want to grow a career at HubSpot, you'll have to become visible. And the wiki - like it or not - is not just great for that but necessary.
I always documented the projects that I was working on and their progress on the wiki. I pretty much dominated the Partner Program wiki space and I've done this purposefully because I knew I'd contributed a lot to the program and I wanted to make sure other people recognised my strengths so that they could come to me for my help when they needed it.
Also, don't be afraid to pitch your ideas and progress you've made to leadership directly - and do that often. They need to hear your voice. Every leadership team is looking for talent and thinking about succession planning. They may hear great things about you from others but it is you that needs to prove to them how true the words are.
So put yourself out there. Share your thoughts and ideas. You never know where they'll get you.
#6 Connect with People and Build Relationships
I said it before, the best thing about HubSpot are the people. There's nothing more valuable for you when it comes to building your career than establishing, nurturing and maintaining relationships with others from across the org not just your own team or department.
Whenever someone new joined - there's a wiki announcement or someone tells me about it - I'd drop 30 minutes on this person's calendar to get to know them and give them the chance to get to know me (I always took advantage of our major conference INBOUND in Boston or any trips to do this face-to-face). New HubSpotters feel welcomed that way and connecting with them like this sets the tone so that later on, maybe months or years later, when you find yourself working with this person, it's so much easier and more enjoyable when you've already met.
To sum up, it's YOU who needs to be the driving force because your career is just that - It is YOURs to build.
The one thing I cherish the most about my time at HubSpot is the opportunity to work with people from across every possible department and a lot of people from the leadership team. I can't begin to express how much I learned and I'll be eternally grateful to so many people for their advice, support and faith in my abilities.
Thank you HubSpot for the last close to 5 years!
Now it's time for the next chapter!