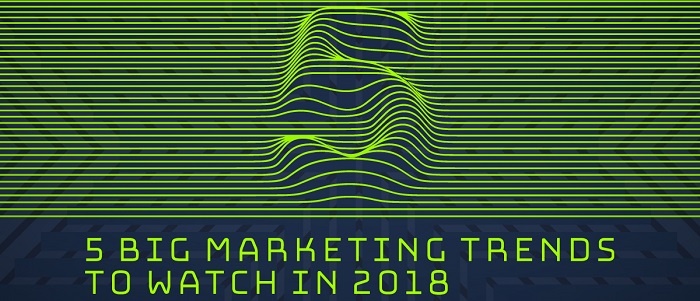 Just a couple of weeks left until 2017 is over. What a great year, wasn't it?
We saw the rise of AI and live video and the slow death of ebooks and organic only on Facebook. Exciting times!
I'm sure everyone is deep into 2018 planning so now is the time to review what's worked for you in the past year and decide what to focus on for next year and beyond.
In your considerations, you need to think about what's happening in the marketing world and pick which trends to jump on based on your goals and priorities for the year.
You can't always do everything so you need to be selective and choose what's going to bring you the biggest return. Technology and digital can't do anything for you unless you have a strategy and a measurement plan at hand.
To help you plan for next year, MDG Advertising have created a very good infographic that dives into the 5 big marketing trends to watch in 2018. Take a look below:
5 Big Marketing Trends in 2018 [Infogpraphic]

Which marketing trends are you leveraging on in 2018?