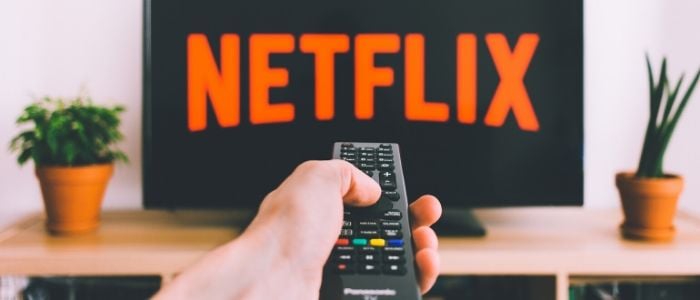 This is a guest post by my friend Kareem Mostafa from tribetactics and author of Original Series: How to create binge-worthy, B2B content that drives revenue.
It's not really rocket science what we content marketers wake up and try to do every day: get attention.
We seek to build attention by creating content. Many of us believe that the goal is to create content that is merely better (whatever that means) than others in the same industry in order to stand out - believing that our buyers are perfectly rational human beings.
Spoiler alert, they're not. They're emotional beings who watch YouTube, Netflix, and listen to Spotify and iTunes as much as you do.
We're not competing for attention from others in our industry. The world is not that clear-cut and perfect. We're competing for attention with virtually everything in our buyer's world. We're competing for attention with Netflix.
Exactly what is our plan to do that?
One thought that comes to mind is that Netflix create their own original series on a regular basis. Somewhere along the way, a (very) small group of marketing pioneers began getting the trick - and started creating their own brand original series as well. Wistia, Mailchimp, Ernest Packaging, HubSpot, to name a few.
And you can do it too. Here's why you need to consider it.
5 Reasons Why You Need Original Series in Your Content Marketing
1. Repurposing content is a breeze
By building original series, chances are you're the first to build an entertaining show and platform for your industry. The beauty of building original series, beyond the immediate benefit of building thought leadership in a novel way, is that you have the ability to repurpose each episode into smaller content pieces across video, audio, written, and image.
Marketing campaigns should have a new meaning for us. They should be synonymous with episodes. After all, episodes 'contain' all the content we were hoping to create in the first place.
2. A sign of quality
Building your own brand video series helps you set yourself apart in a sea of sameness for a variety of reasons.
Beyond content repurposing is the fact that putting together a 'series' sends a clear sign of quality and handmade-curation. Why should people get lost in all the content available online when they can just tune into your well-organised series from end to end?
3. Never run out of ideas again
In addition to that, the built-in frequency that comes with putting together a show strategy means that we'll never run out of content ideas. We stick to the main theme and keep adding one episode at a time. Each episode comes with its own subtopics pertaining to the bigger theme, with its own guests that add their unique value.
4. Credibility through associating with influencers
Speaking of built-in frequency, creating video series gives us the opportunity to build credibility by association. What guests should we invite on our show who believe what we believe; who share the same values? Who has access to audiences that are relevant to us? How can we reciprocate and create value for them in return? Building your own original series helps you access new, relevant audiences. When done right, it also creates a positive ripple effect when we're associated with the figures of authority and influence that said audiences are tuned into first and foremost.
5 . Cost-efficiency in content creation
Building original series helps you to reduce your content production costs systematically by breaking down silos and creating a more integrated culture of content creation where everyone puts their TV Producer hat on to promote the show in various formats that are all streamlined from the start. Over time, this helps solidify your standard operating processes and drives your team members into a state of flow, which improves productivity and reduces hours spent as they get more into the rhythm of activities.
Are you ready to start creating your original series?