What is PR? A difficult question isn't it?
For years the industry has been struggling to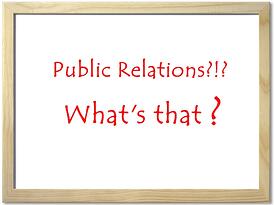 find a single definition that would be equally recognised by national PR bodies and organisations as well as communications academics and professionals. Head over to google and type in "definition of PR" – you'll see about 107 thousand results! Any book you open on PR you'll find a different definition.
Even the official PR associations in various countries have adopted different definitions.
If you have a look at the ones from the two biggest PR professional bodies in the world - the US PRSA and the UK CIPR - you'll see that they differ quite a lot.
The CIPR argues that
"Public relations is about reputation - the result of what you do, what you say and what others say about you.

Public relations is the discipline which looks after reputation, with the aim of earning understanding and support and influencing opinion and behaviour. It is the planned and sustained effort to establish and maintain goodwill and mutual understanding between an organisation and its publics."
The PRSA on the other hand has defined the practice as follows:
"Public relations is a strategic communication process that builds mutually beneficial relationships between organizations and their publics."
As you can see, the CIPR's definition has a strong focus on reputation, whereas the PRSA emphasises the importance of building relationships with publics. These two are indeed some of the most important aspects of PR, but I'm not sure if they individually fully define the practice. They certainly aren't mutually exclusive either.
The PRSA's definition has an interesting story worth telling.
Last year, the organisation launched the so called "Public Relations Defined" collaborative initiative aiming to modernise the existing definition (if you check out the link, you'll see even more definitions for PR).
The main reason behind the need for a new definition was (and still is) without doubt the emergence of new technologies and media, including the rise of social, that in the last few years has evoked a new era for the PR practice.
Let's see the old definition, which by the way was adopted in 1982 and wasn't changed until March 2012 when the new one above was chosen (I'll leave the comments to you):
"Public Relations helps an organization and its publics adapt mutually to each other."
Do you notice a big difference between the old and the new definition? The only two new things that appear in the 2012 definition are "strategy" and "relationships." These two terms are indeed essential for PR, but then again I personally don't think that the initiative achieved a great result; and many others didn't think so (if you read more about it online, you'll see a lot of criticism by a number of professionals.)
I certainly don't claim that I'm an expert, but I think it's a shame that after decades there still isn't an internationally recognised definition that all PR pros can use to easily explain what they do. And let's not forget that as an industry PR has been around for more than a century!
A lot of people who don't work in PR don't have a clue what PR is. Many associate it purely with journalism, spin, celebrity endorsements, the functions of a PA or they mix it up with advertising.
I'm often asked to explain what exactly is it that I do. And I struggle, because PR is so complex. I've never managed to explain what it is in one sentence. It involves writing press releases, features, stories, talking to editors and journalists, project management, social media activities, content creation, planning, organising events etc. etc.; the functions and activities are so many!
I do agree however, that there is a need for a simple, yet precise definition that fully captures everything about the profession.
For me, PR is a strategic communications management function that should sit at the top levels of business management because it is responsible for the reputation of brands, organisations and people by fostering a dialogue and building good relationships with a number of audiences.
Another reason why we need a better PR definition is to improve the PR's image. For years the industry's weakness has been its own reputation. Because some think of PR as 'propaganda' the industry is often seen as unethical. This in turn reflects the major misunderstandings of the profession and lack of respect for it, which to some extent depends on the fact that there is still no equally recognised definition by all PR bodies.
As some say, PR has a PR challenge. It's true that the industry itself is always changing and trying to adapt to the world and the growing power of the media, particularly new media, which might be a reason why there isn't an equally recognised definition, but this sounds more of an excuse to me. PR pros need to keep up and establish trust in the profession; society and technology are evolving fast and we need to learn to adapt quickly.
Going back to finding a clear definition for PR, recently there was an interesting initiative by PR Newswire who asked their followers on Twitter and their fans on Facebook to fill in the blank: "PR is______". In my opinion, this was absolutely brilliant and super engaging as it started a great conversation all over the web.
PR Newswire then put the responses together in an infographic – surely a great way to present the thoughts provided by the PR professionals who took part.
Maybe this is the way to define our profession – in an interactive visual way. I personally love the views (see below).
I would love to hear your thoughts on the PR definition 'issue' and on the ideas expressed in the infographic.
(Click on the infographic for a larger view)

Infographic by PR Newswire