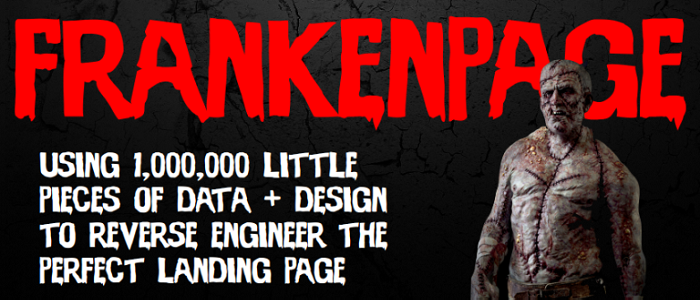 A while ago, Oli Gardner came to Learn Inbound in Dublin (great event here) to speak about landing pages. You know, he's the founder of Unbounce so he sure knows a lot about them. He and his team gathered quantitative data from about 50,000 Unbounce landing pages and did a lot of conversion experiments. That amassed to about 1,000,000 little pieces of data on the perfect landing page (or Frankenpage), some of which I want to show you today.
You see, a lot of my partners and customers at HubSpot ask about how to create the perfect landing page or how to optimise existing ones for better conversion. This blog post solves exactly that.
Taking a step back, for those of you who don't know what a landing page is, it's basically a page on your website with a very clear offering that is of interest to your website visitors (ebook, template, consultation etc) and a form that they need to fill in order to avail that offer. It's an exchange of value - you give them something, they give you their contact details in return. You can see some examples on the HubSpot Academy by clicking on Landing Page.
Let's get to the data now!
What Makes Up The Perfect Landing Page
1. Clarity
Clarity is the most important aspect of the conversion equation. As mentioned, a landing page is an exchange of value. It needs to be clear to the visitor what you are offering and why they should get it. Basically, what's in it for them.
Oli has developed a little formula for clarity that you can see below: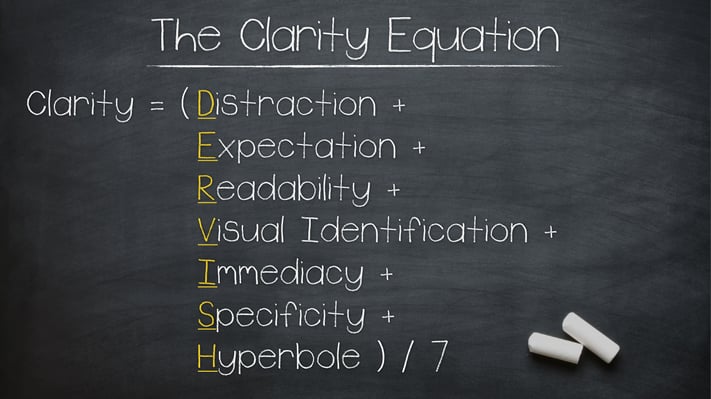 This formula helps you plan the content and what is actually going to come on your landing page.
2. Number of Links
The next thing that I found super interesting is some data around the number of links your landing page should have in order to have the highest possible conversion rate.
The majority of landing pages have 4 to 5 links on them. But the ones that have only one link actually perform much, much better as you can see in the graph.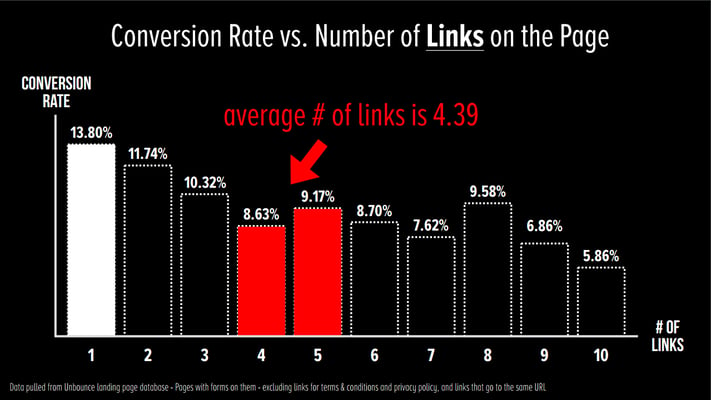 The learning here is that, as Oli says, 7,923 businesses doing "average" marketing could increase conversions by 50% by simply removing 3 links. So, how many links do you have on your landing pages?
3. Flipped Headline to Subhead
Interestingly, we may all be designing the headlines for the landing pages wrong.
This is important because the headline is probably one of the very first things visitors see when they get to the landing page. It's the main thing that stands out because the text is large and bold and usually at the top as most visible.
What Oli has found is that we should be flipping the headlines with the subheads. Basically, to revert the order of the headline and the subhead to uncover extra clarity in the value proposition.
Here's an example: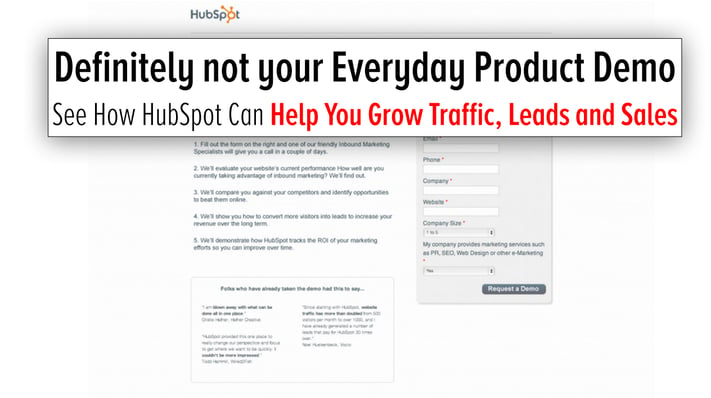 Your call-to-action here is to take a look at landing pages that are not performing so well and try and reverse the headline. Maybe even ask your customers to write it. Basically, A/B test this. When I say "this", I mean the headline only, nothing else. Otherwise, you won't have valid results.
4. Number of Forms Fields
Continuing down the landing page, we come to the forms. The question about how many fields the form should have comes super often. Usually, I recommend to base this decision on the value proposition of the landing page. As said, this is all about exchanging value so if you are giving a lot it makes sense to ask more of your visitors.
Now, the data about this is really interesting.
The best converting forms have either very few or many form fields. The middle ground with four to seven fields is the worst performing area.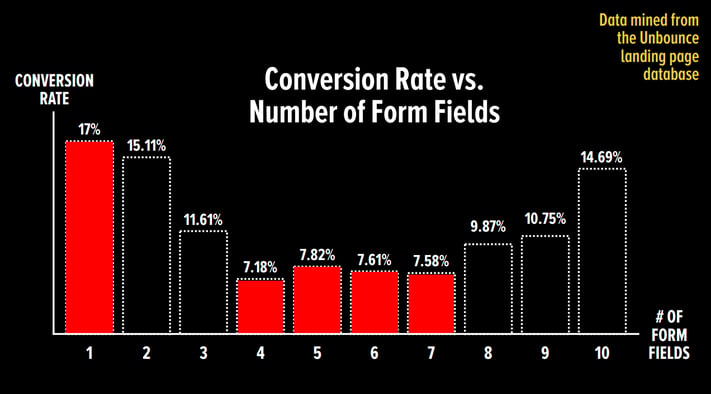 The learning here is that if you're planning to have more than four form fields, you should definitely test the business impact of having eight or more.
If we look at the buyer's journey, keep your Awareness stage forms very short with only 1-2 fields but as you move further towards Decision, go up a lot. It's all about perceived value by the visitor. This is totally on a psychological level.
5. Forms Distance from the Top
I've always thought that the more your content and CTA are above-the-fold the better because people spend 80% of their time above-the-fold, i.e. at the top of your page as the first visible space without scrolling.
So Oli and his team tested whether people scroll. It turns out, they do and if you have your form further down (666px from the top to be exact), the conversation rate almost doubles!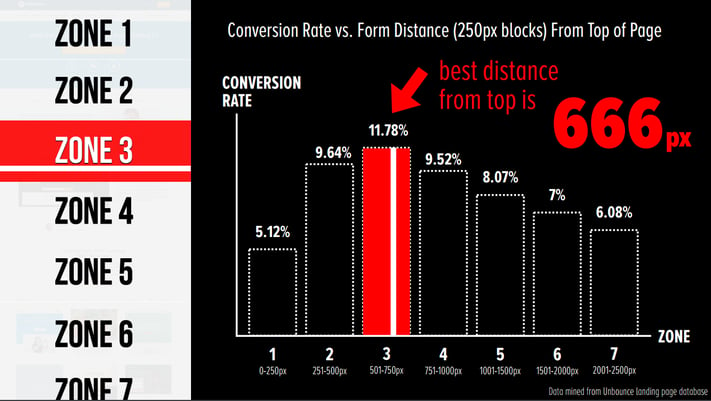 So, this is one more thing to A/B test - get the form further in order to encourage people to "hunt" and explore your content.
6. Email Type
Digging into the form fields, you always have to ask for an email address. Otherwise, how are you going to continue communicating with your leads.
But people not always want to give out that information and often times they tend to share their personal email address which is of no use to us as we can't figure out where they work.
So according to Oli, the way to get their work email is pretty simple - just change the language on your form field for email and say exactly that you want their "business email address" but not "work email address".
Sometimes the simplest things work best by setting very clear expectations and asking people exactly what you want from them. It's just straightforward.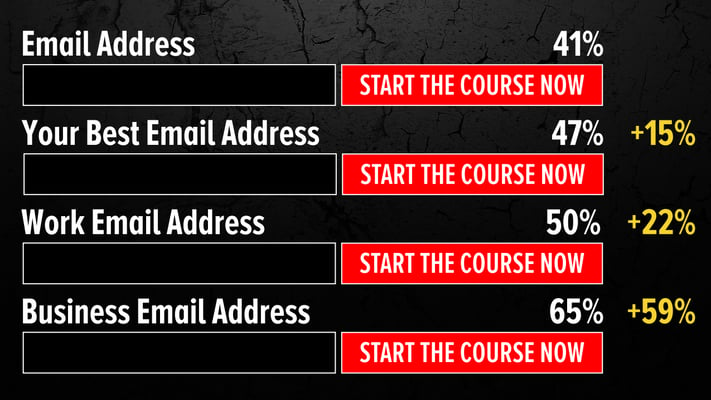 This again is one thing you can test out specifically when your contacts database is full of personal email addresses.
7. The Use of Free and Other Words
We come to the copy side of things now.
People like free things so we tend to use the word "free" a lot, especially when we really want someone to consume our content or click somewhere.
Turns out, though, that "free" is not that persuasive.
We know "free" may not be the best word to use in our copy but what you should definitely be using is:
"my" instead of "you"
"download now" instead of just "download"
"get started now" instead of just "get started"
"click here" instead of just "click
On top of that, you should definitely have the word "because" in there. As you can see, "because" improves conversion rates by 25.28%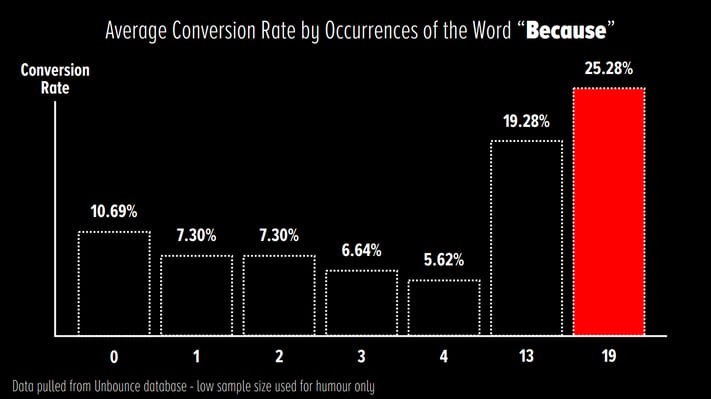 I found this data very interesting and I believe these are little improvements that can be made to secure high conversions and well-performing landing pages both for you and your website visitors.
There's a lot more data in the presentation. It's 180 pages so if you want to read all of it, click here. (See, I'm using one of the suggestions from above.)
Oli Gardner is also speaking at INBOUND in November so if you're going, I'd recommending checking out his session on the future of conversions.
7 Key Factors That Make Up The Perfect Landing Page:
To summarise, the perfect landing page should have:
very clear value proposition
few links
flipped headline to subhead
few or many form fields
rather long form distance from the top
form field that specifically asks for the "business email address" not just "email"
words like "my", "now", "here" and "because" in its copy
As you can see, it's not all rocket science. It requires a bit of understanding and testing because there's no one-size-fits-all solution. So use these suggestions to figure out what works best for you.
Which piece of data did you find most interesting?