With 2012 just behind us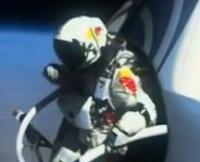 now it's the perfect time to think about what happened in marketing last year and learn some valuable lessons to help us be more creative and clever with our PR and social media plans and campaigns in 2013. This is why I thought I should share with you what I think was the best communications campaign of 2012 and why.
One of the most successful brands when it comes to organisational PR activities is admittedly Red Bull. For years they've been coming up with adventurous and sometimes pretty extreme stunts and have managed to position themselves as a brand that 'gives content wings'. They have never directly promoted the actual flavour of the energy drink, but have instead focused on what values it offers to consumers, namely to boost energy.
And they've certainly managed to do so with the brilliant Red Bull Stratos – an example of PR at its best.
Coming up, developing and funding the execution of such a scientific event is probably the most significant campaign the company has run to date. Sponsoring Felix Baumgartner's record-breaking jump in October provided Red Bull with massive global exposure as well as public approval. The campaign not only spread out through social media, but also received remarkable mainstream media coverage internationally, making the front pages of numerous leading publications. The stunt is a brilliant example of positive word of mouth – everyone was talking about it online and offline, and many are still doing so now (just as I am).
The stunt was very well planned both from a technical, but also from a communications perspective since March, when it was announced that the event was really happening.
From a PR perspective it's impressive how the stunt was intensively covered by major media outlets pre, during and post event.
Various newspapers, TV programmes, magazines, radios and online publications reported the progress on the planning of the jump beforehand, which has then helped spread the word and increase public knowledge and interest in Felix' feat.
During the event, Red Bull made sure that the whole two hours of the stunt were reported live on their YouTube stream, which allowed anyone around the world to closely watch the feat. And it broke records – eight million people saw not only the jump, but also the Red Bull logo and branding.
Talking about online, the campaign achieved thousands of followers and fans on various social media networks, with 3 million tweets it was the most talked about topic for days. Such buzz created amazing engagement opportunities for the brand.
Such an exclusive event will be covered for years to come. The media outlets are still talking about it and it will be even more interesting to see what the experts will have to say about the scientific impact of Felix's jump and the proof it provided about that the human body is capable of true greatness.
Thinking 'outside of the box' allowed the brand to create an emotional and inspirational impact and build relationships with fans by involving them to have a bigger purpose.
It was an incredible feat that generated tons of publicity, not only because it was an extreme challenge, but also because it showed that a single company is willing to invest in improving society by supporting scientific initiatives, and not just thinking about improving its bottom line. Red Bull itself admitted that they didn't want the event to be perceived as a PR stunt, but as a way of providing scientifically valuable knowledge.
Red Bull Stratos was a truly integrated online and offline campaign, an achievement that many brands can dream of that fully grabbed the public and media attention. As Jonas Feliciano, beverage industry analyst at Euromonitor International, said: "This is taking it to a whole new level. It has turned a PR event into a news event."
Image from YouTube video