I've spoken about the relationship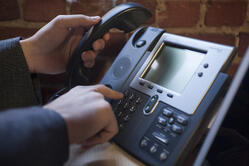 between journalists and PR professionals in previous blog posts (here and here). The truth is, they both depend on each other, but it seems that one of the groups has a rather negative attitude towards the other one, namely journalists towards PR specialists. So, you can't really say that's a healthy relationship, right? Well, a recent research by Twelve Thirty Eight sheds some light on the reasons.
PR consultancy Twelve Thirty Eight e-mailed two thousand correspondents and editors to find out what they thought about the so called "sell-in" calls from PR pros. The consultancy asked only one question: "Have you ever been talked into reporting on something that you had decided to ignore following a call from a PR person?" The result: 97.9 % said "No".
(Click on the infographic for a larger view)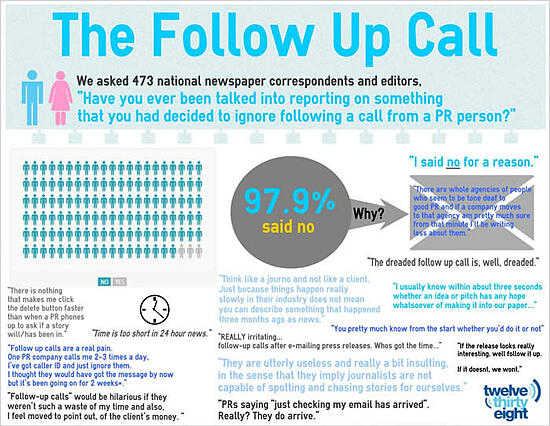 As it turns out, follow up calls from PROs quite irritate journalists and are considered a waste of time.
Here are some more interesting responses:
"I have never, ever been talked into reporting something through a follow-up call. They are utterly useless and really a bit insulting, in the sense that they imply journalists are not capable of spotting and chasing stories for ourselves."
"If someone called me back to re-try the pitch the same thing, the chances are that I'd just get irritated that they were wasting my precious time."
"It's quite clear from the email if the opportunity is something we'd like to follow up on or not."
"Ringing me up repeatedly will not make it go in, it will do the opposite."
"I always read at least the headline on everything I'm emailed and I never change my mind after a follow up call. They are a complete waste of time."
"Not only have I not been convinced by a follow up call, I've actually re-considered something I was on the fence about running because of follow up calls."
"PRs saying "just checking my email has arrived". Really? They do arrive. If we are interested we will call."
"If it isn't good enough, it isn't good enough. Simple as that, and a follow-up call would not make a lot of difference."
"The follow up call is irritating, and fails to recognise that if the press release hasn't been followed up by that stage then it's already failed to do its job."
"Basically if the press release is going to get in the paper it will make the paper because it's a good story in its own right."
What's the conclusion?
Well, it's simple. If you have a good story, that's all that matters. If your story is of no interest to the journalist, then he/she will simply ignore it no matter how much you push it with follow up calls, emails, tweets, LinkedIn messages etc.
Then again, here comes a big difficulty PR consultancies are facing – sometimes their clients believe that they have such a great story (because it's their company of course, so it's the best company of all, right?) even though in reality it's not really that great... And that's hard to sell, sometimes even impossible, but the client expects results, so what do you do? You push and persist... (Don't get me wrong though, that's not always the case; nevertheless I personally hated having to do follow-up calls.)
Difficult circle of relationships, as you can see... Clients>PR>Journalists...