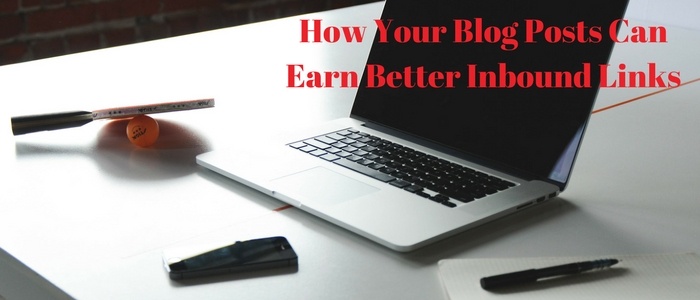 This is a guest post by Joseph Payne from CouponsMonk.
From research to playing with words, you make efforts on each and every blog posts. But do you earn enough inbound links on it? Does your hard work pay off?
Be it an article or video content in blog posts, earning inbound links is a prerequisite to succeed in SEO. This is one of the best ways to drive traffic to your website and engage readers. But most of the marketers lag behind in creating attractive content.
Content is a crucial thing that can either make or break your marketing strategy. In order to survive in this cut-throat competition, it becomes part and parcel to focus on content creation.
It's time for you to craft blog posts in such a way that it drives skyrocket traffic to your site. As a result, it would greatly impact your marketing strategy, improving your brand values and your SEO ranking.
Getting smart with the strategy simply means understanding your audience thoroughly and creating content accordingly. When content is created while considering the audience, then i's apparent that you can significantly engage readers.
Here are some key ideas to take into consideration when revamping your content marketing strategy in such a way that it can earn better inbound links.
5 Types of Blog Posts That Earn Inbound Links
Long Lists Posts
People are always up to learning a new thing on the internet. This is the main reason why long lists posts are getting more popular day-by-day.
The posts that are created in list format have more exposure and thus get a better response to it. People find it easy to cope with the list so that they can grab information from it within no time and from where they need it exactly. This way not only will they engage with the content, but they will share it, which in turn would evidently drive more traffic for you.
Long lists posts are able to create curiosity and attract attention by being easily digestible and having heading suggesting that they'll be highly informative. Moreover, they lists can immediately be followed through by your audience and much easier to refer to either on social or on other websites giving you the desired inbound links.
Ways/How-to's Posts
The posts that includes tutorial, guide or procedure to demonstrate information and to convey a specific message are one of the most powerful types of content. How-to's posts should be your go-to type because they always do well.
You just need to acquire knowledge on a particular niche and jot it down as "N ways to do…" or "How to..." This type of content almost always brings more traffic and inbound links. As the majority of people start searching with a query, they would get along with your post to receive answer. For example, how to make slime or how to lose weight.
Producing the content that seizes the value of information that your audience is actively seeking can do wonders to your online presence. Especially, DIYs and home remedies are some of the hottest topics that people are hunting for right now.
Strong Opinion Posts
Strong opinion posts are different. This is the most crucial type of posts, which might be good or bad, depending upon your strategy and how you go about creating this type of a post. Though being such a tricky method, it has powers to earn lots of links. But the only thing you need to consider is that you are going through in-depth research before you proceed with content creation because you have to defend your position and opinions with a lot of examples and often data.
This is such a type of posts that can either get you positive or negative responses, but anyway you're surely getting backlinks to your blog post. As the perspective of people differs from person to person, people would react to those strong opinions and often drop a lot of comments.
Either way, your blog post would be getting exposure because it's something that people would talk about, which is ultimately favorable for the SEO of a website.
Interviews/Podcast
Strong contacts and remarkable personality are the essence of this type of blog posts. Grab an opportunity to interview an expert and compose your post either as an article or a podcast at the same time. When the interview is ready, spread it around heavily on social media by tagging the expert. That way you can earn backlinks to it because people will remark on the expert's interview.
Being an expert in a niche, people always search to learn more about their work or follow their advice to be better. Interviews would attract many marketers who are already searching for this type of expert advice.
Infographics and Videographics
In our information overload era, people are always expecting something new. They are bored of the same articles again and again. This is the reason why visual content is so much in trend.
Publishing blog posts that include infographics and videographics will bring you a lot more traffic. Pictures that exhibit stats or information are one of the most effective approach to content marketing.
If you are feeding people with something interesting and eye-appealing, then it is pretty sure to grab their attention to the post. The benefit for you is that visuals are one of the best tactics to earn better traffic because they simplify complex topics and make it easy for the user to understand and remember the message for a long time.
Earning inbound links to your blog posts is not at all a daunting task if you take enough care when creating your content. The above ideas give you great cues to help with your planning and SEO efforts.
How do you earn inbound links?