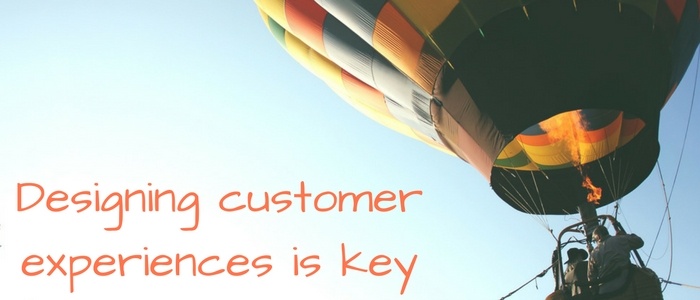 Today I'm going to tell you a story about customer experience and how customer experience can make or break your brand.
Last week on Wednesday, I was getting excited to fly over to Frankfurt to speak at a HubSpot User Group event organised by one of my partner agencies. I was supposed to present about Inbound PR so of course I couldn't wait!
I woke up early in the morning to start packing for this quick trip and catch my flight at 12.30pm.
I make myself a cup of coffee, turn on the laptop to check my emails quickly and as I always proactively do, I went to Dublin Airport's website to see whether my flight would have any delays just so that I am aware of changes, if at all any.
I saw something else, though.
My flight was cancelled. Correction, all Lufthansa flights were cancelled.
What do I do next? I google.
What do I find? Well, turns out Lufthansa's pilots were striking again. Flights have been cancelled for a few days. So mine wasn't a last minute thing by the looks of it.
And here's the big but: no one notified me. Not a single email the day before or early in the morning.
They clearly knew, though.
Now, I stopped thinking about this and I rang them because in this case I thought they would be able to solve this if they hadn't said anything.
After 20 minutes on the phone, I was wrong.
Never mind that the lady first gave me options to Brussels, not Frankfurt, but basically what she said was that all other flights were already full! Nothing at all possible to solve my problem.
This was happening at 7am. What if I hadn't checked Dublin Airport's website but had actually gone to the airport and would have been told that then?
What about the other people? Did they end up at the airport, looking blankly wondering what to do, or were they even more proactive than me figuring this out earlier?
And what did Lufthansa do?
Well, they just let us dry there.
Why even notify us when we'd figure it out anyway on our own and be stuck?
Why try to proactively help us early enough so that we manage to get to our destinations somehow?
Why bother to communicate?
Sorry, Lufthansa, this was bad. Really bad.
Why? Because you knew the strikes were happening and you could've easily managed this much better with a tact of proactivity and customer-centricity.
Any normal airline would have gathered their entire workforce to review the cancelled flights, the passengers on them and sent an early enough notification like the day before since you know then and offer either a refund or other options that would make me find a flight before it's full!
So something like this:
Dear passenger,
We apologise deeply for the created inconvenience as your flight to XXX on XXX at XXX has been cancelled.
We wanted to reach out to you to offer you either a full refund that you can request here [LINK] or three additional options for flights that we can get you on so that you arrive at your destination at approximately the same time:
Option 1: [Details]
Option 2: [Details]
Option 3: [Details]
Please let us know if any of those would work for you.
Additionally, you can reach a customer representative at XXX at any time.
Sincerest apologies again.
Kind regards,
Your XXX team
You can save that as an email template if you want to.
But even if you hadn't done this, at least an apology email after the cancelled flight.
Or even an apology from your customer representatives. The lady on the phone didn't even say "sorry" to me. I understand she must have been under a lot of pressure at this point but should I be the one putting myself in her shoes or should she be putting herself in my shoes?
Regardless whether this crisis is coming from you, your employees or because of a trade union, you are still responsible for our experiences with your service and brand.
I used to love Lufthansa. Now I'm so disappointed at your lack of customer service and care that I really don't want to fly Lufthansa anymore. In fact, I had to reschedule that event I was due to speak at to February (yes, two months later!) and I booked my flights with Aer Lingus. Lufthansa's brand is broken for me. And I'm pretty sure not just for me.
You see how lack of communication that builds customer experiences can lose you money? I can't even imagine what the sum of that for an airline would be.
It's on you to communicate and design my experience with you, not on me.
In the digital economy, we simply have plenty of choices and a complete ability to ignore you. You can't allow yourself to mess this up anymore with a lack of customer thinking.
Because it's not just the news that write about this crisis but it's us too - normal people who actually fly with you. I'm publishing this blog post now to show brands how they should not act and as everything was happening last week, I tweeted and I posted on Facebook. That last message got some interesting comments: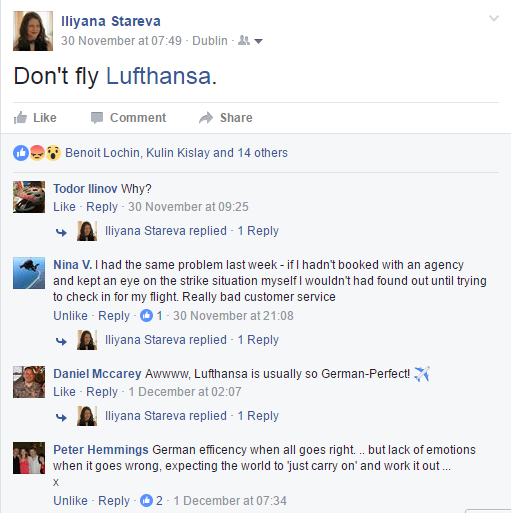 I know we're badly stereotyping here but I thought the last comment was pretty funny.
The learning here is this:
Every touch point your customers have with your brand - the good, the bad and the ugly - needs to be designed by you. If it's not, you'll fail.
I recommend reading Brian Solis' latest book X: The Experience When Business Meets Design.
Happy experience-making!