We've all heard numerous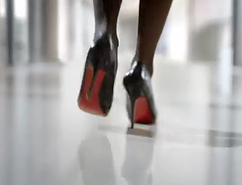 stereotypes about men and women. I, myself, have written on the topic. It isn't news that men and women are viewed differently in our society, and so are their capabilities and virtues. For example, a successful male leader is mostly called strong because he's the real boss; a successful female leader on the other hand is often labeled as 'bitchy'. Exactly such stereotypes and gender labeling are brilliantly exposed in an emotional new ad by Pantene Philippines that I want to show you today.
In less than 60 seconds the commercial covers five double standards women often face and so brilliantly tells the story of how men and women with identical work behaviour are seen differently. For example, a male speaker is "persuasive", while a female speaker is "pushy"; a well-dressed male is "smooth", a well-dressed lady is seen as "show-off".
The ad is sincere, with a strong, but simple message that has nothing to do with what Pantene actually sells (hair products). According to Pantene, "70% of men think that women need to downplay their personality to be accepted." But this shouldn't be so, which is why the spot's aim is to inspire and empower women to stand strong, shine and whip away stereotypes.
With such a message, no wonder that the campaign has gone viral: it has so far received over eight million views, much thanks to an endorsement by Facebook's COO Sheryl Sandberg. And this is great news because this ad has helped start a movement to, as Sheryl Sandberg says, change the conversation from what women can't do to what we can do.
In my opinion, the campaign was inspired by Sheryl Sandberg's book 'Lean In' and particularly by a study she references. Two professors from Columbia Business School performed an interesting experiment in 2003. They divided the classroom into two groups. Each group received the same case study about Heidi Rozen, a real-life successful female entrepreneur from the Silicon Valley, however for one of the groups the name "Heidi" was changed to "Howard". The professors then surveyed the students' impressions about this successful female/male entrepreneur. Although both groups found Heidi and Howard equally competent (well, that's obvious, as they were the same person), they thought Howard was much more likable. Heidi was seen as selfish and not "the type of person you would want to hire or work for." Astonishing, isn't it? What a difference gender makes...
Anyway, the ad is powerful. Enjoy!
Image from YouTube video