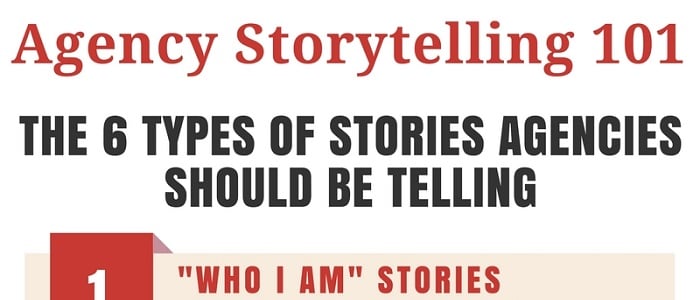 As a marketing agency consultant at HubSpot, I've so far worked with over 150 agencies. The one thing the majority of them struggle with is their own content. Yes, their own marketing.
I know, sometimes this does sound funny since that's exactly what these agencies offer to clients - marketing services . Surely, they should be able to be doing this for themselves, right? Yes, able they are. Not always committed, though. Why? Because client work comes first. And so does winning new business.
But the most successful agencies I've worked with, have learned how to find the time for their own marketing and are nailing it. They experiment with their own stuff rather than with those for clients. Basically, they become their own best client.
To get to this point is not impossible. You just need to treat yourself like a client. Get the goals, sign a retainer of activities, develop the marketing plan (including buyer personas, content plan and schedule) designate an account management, get this on a project management tool and then stick to it. Review, rinse and repeat. That's it.
Okay, hold on a second, maybe it's not that simple.
The struggle comes with talking about yourself. Objectively.
Agencies have no problem with creating content for their clients. They research the industry, the brand, the products they offer, and off they go creating a content plan and storytelling boards.
But to dig into one's own brand, one's own agency vision and direction for the future is a tough and intimidating exercise that many agencies shy away from. It is, however, necessary in order to create a communications strategy with content that really works, to tell multiple client-facing stories that really present what the agency is like and what the value for those clients really is so that you can generate good leads, persuade your dream clients to work with you and keep your team.
So how do you do it?
Don't worry, this is what we are covering today.
In her book The Story Factor
, author and speaker Annette Simmons identifies the six kind of stories any professional or organisation needs to know how to tell as they encompass all communication. Defining those for your agency will enable you to dig deeper into your own agency and develop your communications and storytelling strategy that spans through more than just your blog and includes your website, your social media accounts as well as F2F situations with clients and your internal team. From then on, it should be easier to get your buyer personas, content plan and schedule etc.
And because I love telling stories in a visual way, I ended up creating an infographic that I hope you'll like more than just another super long blog post.
Agency Storytelling 101: The Six Types of Stories Agencies Should be Telling [Infographic]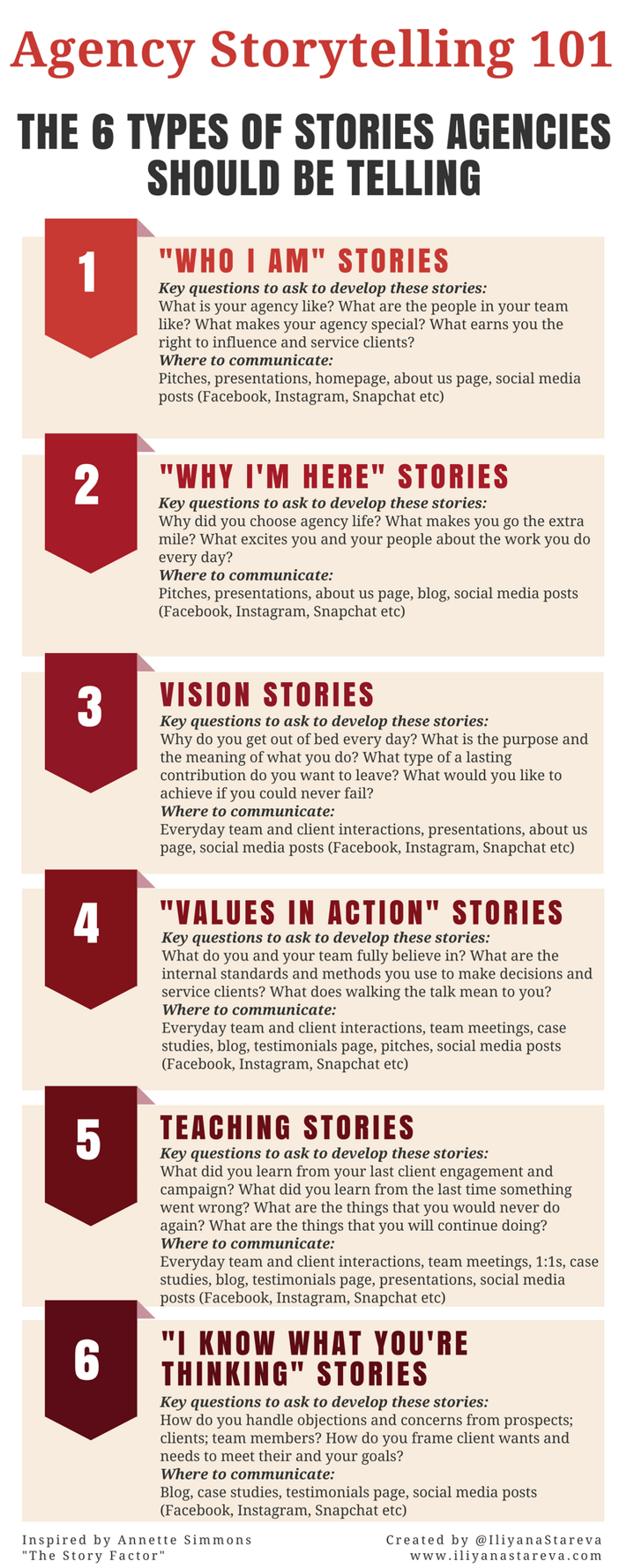 Telling stories about yourself and your own business or the company you work at is hard. As Annette Simmons says, "Storytelling is an art – subjective, emotional, and as variable as humanity is diverse."
You can't shy away from it, tough, because it's hard or because you don't have the time. These are terrible excuses.
Take baby steps: define the six stories for your agency (take a look at how Moz does it as an example), review all the collateral, materials and communications you already have (your website, your blog, pitches, any print materials, how you run meetings etc) and start adjusting one by one. This is about putting the focus on what you already have and making it great and relevant, and only then to create the new stuff that aligns with your new communications strategy which is already visible with the existing content you've just improved.
So which story are you already telling about your agency?