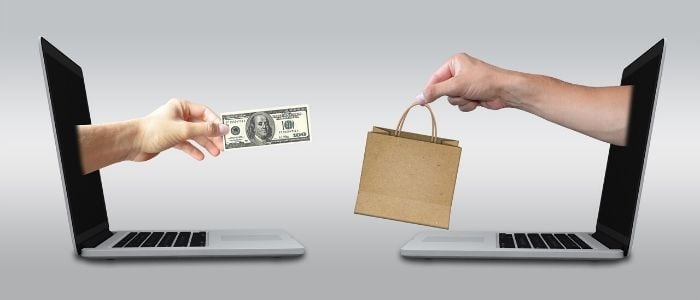 This is a guest post by Edyta Kowal.
The temptation to deliver as many leads as possible can be very strong on the part of marketing teams. But at the same time damaging. After all, it's all about inspiring the customer to visit the store and make a purchase, and not just browse around and leave empty-handed without even exchanging a single word with the sales assistant.
One marketing buzz term we've all been hearing over and over again is optimisation. We optimise costs, methods, and procedures to save time and money. Then why is it so easy to fall into the trap of only looking at the number of leads and not their quality? After all, busted budgets, Sales resources, and even brand image are at stake.
Let me talk to you about my top strategies for generating leads in SaaS (and not only).
5 Proven Strategies for Generating Leads in SaaS
#1. Define who you are speaking to
Defining the target group is an absolutely fundamental step we have to take. Without understanding our model customer, we will not be able to plan a meaningful campaign and communication, and our efforts will reach random recipients. What will be the result? Few leads and few conversions costing you an arm and leg.
There's a whole lot of different measures we can use. From qualitative research to statistical panels and behaviour analysis tools (LinkedIn Website Demographics, Facebook Audience Insights, Google Analytics, HotJar, Heap, Optimize, HubSpot) to industry reports.
But nothing beats a direct conversation with a living human being. A great and underestimated source of information about customers is Sales and Customer Service representatives. They are the ones on the front line, so it is worth making sure that they are sharing this knowledge with other people on the team. The best way to do that is by applying a structured method to group customers into categories.
What can you learn from a sales rep?
Who do they usually deal with on the customer side?
Does the lead have a good understanding of a given product/service?
Who usually makes the final purchase decision?
What product-related questions do potential customers ask most often?
What is it that the customers find most problematic?
What do they say their objective is?
Which leads generated from what phrases are more responsive? Which are harder to reach?
A Customer Service rep, on the other hand, will tell you this:
What is the customer's position and what are they responsible for in the company?
What makes it difficult for a customer to achieve key objectives?
What has to happen for a customer to say that they have achieved success?
What is it that makes them buy another product or extend subscription?
What makes them walk away?
#2. Segmentation is key: Gents to the right, ladies to the left…
A well-structured, tailored and properly addressed communication will drive more traffic to your website and make the tariff plan in your CRM burst at the seams from all those new contacts. However, you cannot target everyone with the same offer, so what you'll need is initial segmentation. And preferably already at the level of the registration form.
They say that the simpler the form, the better. But sometimes it is worth finding some middle ground and getting some extra information that will later determine the way a product is presented, e.g. during a meeting or as part of an onboarding email that lands in user inboxes.
In Prowly―a PR software tool I have supported marketing-wise over the last four years―the user is asked at the very beginning about four things: which product is the most important for them, whether they want to use sample data after opening the application, what position they work in and in what sector. This allows Prowly to send customised emails to the users, responding to their specific needs and reinforcing their sense of having made the right decision. With this, sales reps will know exactly what arguments to use in a direct conversation.
…but this kind we don't serve
There was a moment when we decided at Prowly to block the possibility of creating accounts using private email addresses. We required a company domain, so we could be sure that we were taken seriously. This did not affect the number of registrations, and lead responsiveness was up.
What we have also noted was that those users who decided to use the option to pre-fill our application with sample data were more active in the application. And more activity during the test period means greater probability that the user will stay with us for longer. In other words, we are improving the quality of such leads during their interaction with the product even before they make a purchase.
Being close to your customers has also a bonus dimension. We have gained knowledge about the direction in which to develop the tool. In the end, we knew more about the potential customer, and the customer didn't receive spam messages from us, but customised content and a tool to solve real problems instead.
Sign-up process in Prowly, step one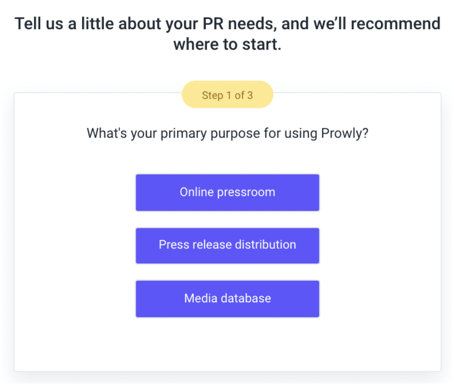 Sign-up process in Prowly, step two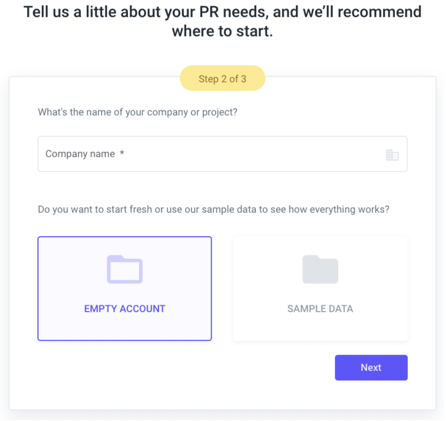 Sign-up process in Prowly, step three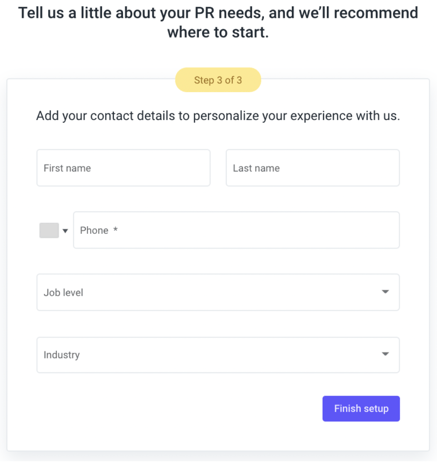 #3 Scoring: no two leads are the same, but we're giving all a shot
It's quite rare to have a situation where a customer comes knocking to our door and expressing their willingness to buy our product or service right away. First, they have to get to know us, make an appointment for a test drive, etc. In the era of creating long-tail content, not fully related to the core product, they often even meet a brand without even realising that it can offer them a specific solution.
Think about it―no two leads are the same. The data collected by HubSpot in their article 30 Thought-Provoking Lead Nurturing Stats You Can't Ignore (MarketingSherpa, InsideSales.com, Forrester Research) shows that:
as much as 79% of leads never convert into sales,
just 56% of organisations verify leads before passing them to Sales,
60% of users want to contact a sales rep at Consideration stage,
on average we need 18 attempts at getting in touch to sell,
at least 50% of leads will never become customers.
When you get a hold of the contact details of such a fresh customer, you can't just pass them to Sales right away. Give them a chance to learn, to mature. Only then, when the moment's right, you can make an offer they can't refuse. When to do it? Here's where a scoring system comes in handy, which, depending on the behaviours and interactions with your content, will be assigning points to a given lead. Over time, their number will allow you to change how your lead is qualified, but more about this later.
How to go about it? It's best to take a twin-track approach and consider behaviours and demographics. Appreciate those who fit your brand profile (Buyer Persona). If the perfect customer for your product is a PR manager or director representing a major PR agency, go ahead and assign X points to all those who meet these criteria. On the other hand, subtract points from students that you know will take your product for a test drive and most likely won't end up paying for it in the end. If your product works better for B2B than B2C customers, make sure the former are topping your lists and that Sales will contact them first. Put NGOs that are offered lower prices into a separate funnel.
Scoring proves very effective in content marketing
Make sure that the users who consume more product-related content (e-books, webinars, case studies), participate in your events or look at price lists score as many points to be promoted from lead to MQL (Marketing Qualified Lead). Those who are directly and actively expressing their willingness to learn about your product (create a test account, make an appointment for a Sales presentation) should go through that path quickly. Unlike those, who, e.g., unsubscribed from your newsletter or haven't opened your emails in months.
Set a threshold that will tell you which leads are properly "warmed up". Automate the whole process (HubSpot was perfect for us in this regard) so you don't waste time and give Sales a chance to contact a fresh new MQL right away. Then ask sales reps for feedback and modify your scoring so it picks up quality leads even better.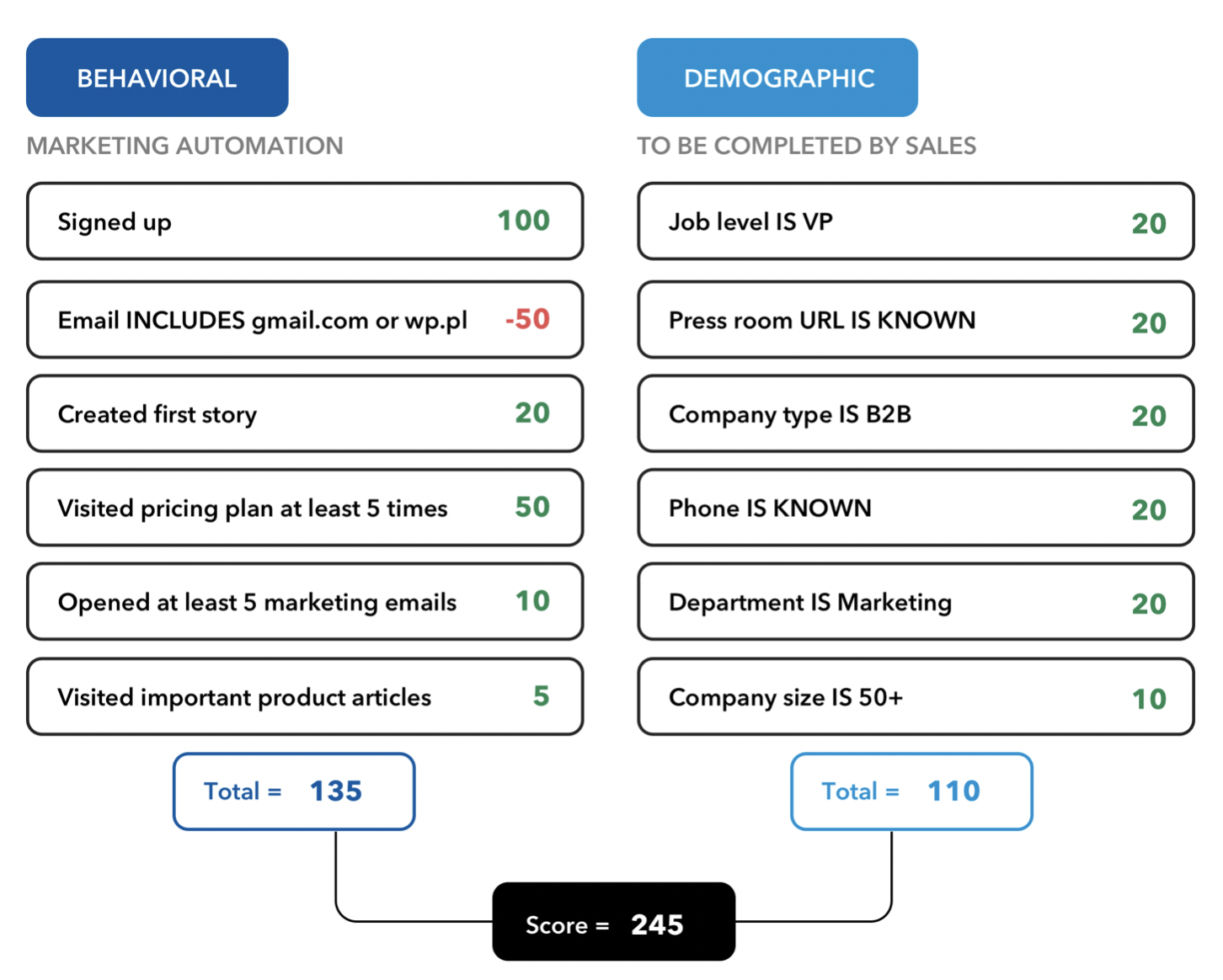 #4 Bear in mind, there's more than one funnel
Most organisations focus on one marketing and sales funnel and don't take into account the different points at which the user and the brand meet and the paths that, depending on those points would be able to effectively get him or her through the entire Buyer's Journey. And that's a major mistake!
By designing funnels based on channels with a lower probability of closing the transaction or longer closing times, we increase sales productivity. How come? Because when we "warm up" slower converting leads, Sales can focus on handling those leads that are ready to be processed.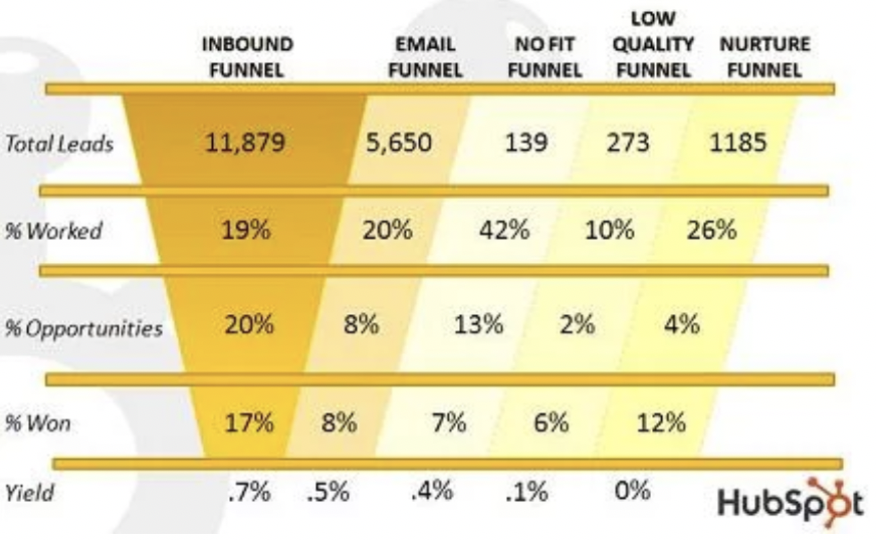 According to Implisit and their study of hundreds of companies and their sales funnels, average MQL-to-SQL conversion time is 84 days. Obviously, it depends on the sector and the market, as well as the source of a given lead. A website or referrals, e.g., can convert faster than email marketing or events, let alone cold calling.
If you're into industry events business like I am, I would recommend preparing a separate funnel for each method. While monitoring the whole process, you can provide your leads with appropriate content. This way, they'll gain points for activity, which will allow them to get to know the product and its benefits better. Be prepared that in this case, you'll be engaging Sales at a much later stage. But not with less success.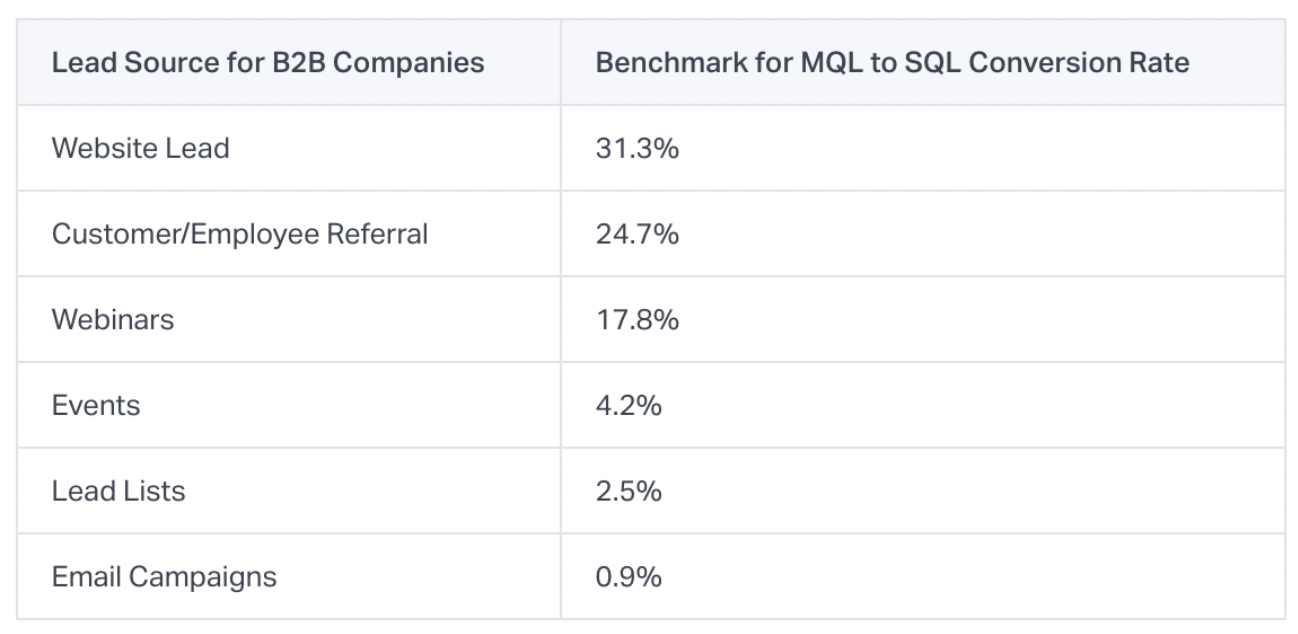 #5 Nurturing: it all begins and ends with marketing
Let's be clear, there's no such thing as bad leads. There are only cold leads and actions or campaigns targeting the wrong target group. Without a system that automatically picks up the first category, allows marketers to educate them and engage until they're ready, Sales is wasting time and energy. And we get frustrated because we don't deliver and go over budget.
A healthy system is one in which, even if a not-ready-yet lead gets passed to Sales, they will be able to bounce it back to Marketing for some "warming" activities. On the other hand, proper lead segmentation and classification by Marketing will lead to these situations being limited to a minimum. Above all, however, it will help prioritise tasks and replicate solutions that have previously produced satisfactory results.
Recommended extra reads:
What are your strategies for generating leads in SaaS?