Many companies, especially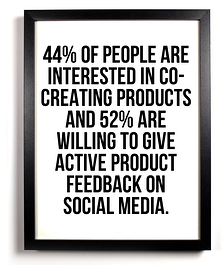 multinational organisations, have been putting some serious efforts to adopt sustainability into their operations and supply chains. As my dissertation has shown, this move towards sustainable development has largely been due to increased stakeholder expectations and the need to secure a safe future for the next generations by tackling the major planetary issues we are facing today. Admittedly however, the challenge in the 21st century sustainability is not the lack of technology, but the need to transform consumer behaviour, which can only be overcome by educating society and facilitating knowledge. This means that businesses today are not only required to effectively communicate their efforts, but to also make them relevant to the community and to involve and engage people to take action.
This is indeed easier said than done. But, a relatively new avenue for communications in the realm of corporate sustainability provides social media – not just technology, but a significant shift in the way we communicate, interact and build relationships.
At the beginning of the emergence of social media companies were rather sceptical and it took a while before social media was properly adopted into marketing communications and PR (although this is still not the case in each and every organisation). We can observe a similar thing when it comes to using social media for sustainability – leaders find it difficult to see the potentials and to really make it work.
As I am very passionate about this topic and I firmly believe that social media is going to play a significant role in building a sustainable future, I would like to share 44 facts and figures from various studies that are included in my dissertation and that back up my beliefs. This way, I am hoping to progress the conversation about social media's power for sustainability. I would love to hear what you think.
So, here are the 44 facts and figures businesses cannot ignore in their sustainability efforts and comms:
Quantifying the link between social and environmental actions and financial performance is a major challenge organisations are facing when aligning their strategies with sustainability. Progress has been made (especially among leading MNCs), but not enough and it is therefore evident that the current prevailing business paradigm, largely based on the "take-make-dispose" philosophy, is no longer fit for purpose. Milton Friedman's philosophy that the only responsibility of business is to increase its profits has therefore become largely inadequate in the 21st century. As Hutchins argues, businesses are increasingly recognising the need to go beyond short-term maximisation and behave more like "emergent, living organisms" in order to thrive and survive in the current dynamic and volatile environment simply because corporations are part of society, they are mutually interdependent – society depends on companies for wealth creation, whereas companies require a healthy society to create and share that wealth with.
As Galileo once said, "You cannot teach a man anything; you can only help him to find it within himself." Carnegie explains it very well: people cannot be forced or driven to agree or act in the way others want; people need to be gently and friendly led, inspired and engaged to change their minds. And this is where the power of social media lies – in reaching the right audience, building a truly engaged community and fostering real change to collaboratively shape a sustainable future.
Want to know more about social media for sustainability?
Get the book here. The research was published as a book called "Social Media - Key for Sustainability Communications". Read it now!