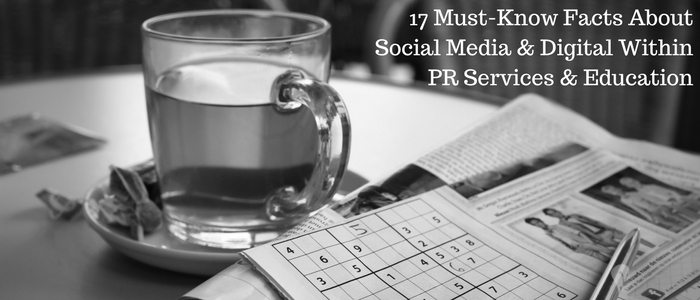 The outlook for public relations in 2018 makes it clear that PR has work to be done to be fit for current client demands.
Social media and digital has been one of the biggest areas for development in the PR industry over the last couple of decades.
The PRCA releases a yearly report about Digital PR and Communications and how these are progressing among companies and PR agencies.
Towards the end of last year, the 2017 findings showed some insightful learnings that I want to share with you today.
17 Must-Know Facts About Social Media & Digital Within PR Services & Education
Social Media and Digital - What Do Clients Want?
Brands use social media to drive new awareness (85%), increase brand awareness (73%), and drive a wider audience reach (73%).
Fear of attack has risen by 9% which is why companies are not using social media more often.
Lack of resources such as staff (40%) and budget (40%) are the biggest reasons why brands are not using social media more often.
45% of in-house PR practitioners say that the majority of social media and digital content is produced by the PR department.
However, increasingly other departments have started managing the social media content responsibility such as marketing (27%) or the social media team (18%).
The main areas of digital and social media spend are video-based content (57%), image-based content (53%) and online advertising (51%).
The most popular social media platforms remain Twitter (93%) and Facebook (75%) but Instagram has dropped from 65% to 53% and Snapchat from 20% to 14%.
Over the last five years there has been a widespread cutting of budgets into individual service areas: community management (-26%); monitoring (-28%); web development and build (-30%); training (-28%); online reputation management (-23%); SEO (-21%); social network strategy (-20%).
PR Agencies - What Services Do They Offer?
Agencies last year saw a general rise in their usage as content creators in terms of video, image and text-based formats, followed by services such as social influencer outreach and social media activity.
Clients expect digital crisis management (51%) and online reputation management (51%) as services from their PR agencies. However, only 6% of respondents say that they use their agencies for these services at the moment.
The leading services offered by PR agencies are online media relations (82%), social network strategy (80%), text-based content (79%), online reputation management (65%) and digital crisis management (59%).
The services PR agencies have reduced over the last five years are monitoring and listening to customers (-26%), community management (-25%), SEO (-25%).
Measuring ROI - Myth or Reality?
Confidence in the ability to measure the ROI of digital PR (such as banner ads, SEO etc.) has dropped from 73% to 63%.
67% of respondents believe they can measure the ROI of social media - organic and paid.
Education - How Does PR Develop New Skills?
The most highly rated source of education is external training courses - up from 28% to 64%.
Most respondents gain social media education from conferences and events (51%) and expert blogs (49%).
Agencies feel they need more education on SEO (41%), PPC (31%) and social influencer outreach (21%).
What do you believe PR's role is in social media and digital?