Who is Iliyana Stareva?
The Short Version:
To get your attention, here are five things you should really know about me:
My obsessive behaviours:
I have an innate need to always learn and do new things: my boundless curiosity.
I moved four countries and 10 cities over the past eight years.
I can't stop shopping: from 60kg of shoes and clothes and bags in 2009 to 250kg of shoes and clothes and bags in 2015. I'm afraid to count them in 2018.
I wake up at 5.45 am every morning to do Insanity (or other Beachbody workouts): that's been going on for about six years now.
I am a workaholic: I love my job because it aligns with my passions and it helps me learn every day by challenging me to be better.
I live and breathe inbound marketing for agencies and I invented the new concept of Inbound PR. Before joining HubSpot, I spent three years in PR and digital consultancies in Germany and in the UK, working for some of the largest FMCG brands in the world and developing deep expertise in social media marketing and blogger relations.
Knowing agency life so well, I was headhunted by HubSpot and the position as a Channel Consultant was just the perfect fit so moving to Dublin, Ireland was no problem for me. Being fluent in three languages, I looked after dozens of HubSpot European partner agencies, specifically from the Nordics and the DACH region, and helped them grow their businesses with inbound marketing and position themselves as thought leaders in their fields.
Gaining so much experience in how our agency partners act and what needs they have, I was quickly promoted to Global Partner Program Manager in May 2017 to plan and execute cross-functional change across global teams and drive a partner-first approach for company-wide initiatives..
My guiding principles:
Taking an efficient, no-nonsense, committed to absolute excellence approach to my work and personal life, I have three principles that drive everything I do:
Always be learning
Always do your research
Always follow through
The Long Version:
My roots
I was born and brought up in a town called Pazardzhik in Bulgaria (Southeast Europe). I've always been fascinated with travelling and getting to know foreign cultures so in my early teens I decided on a higher education abroad. After finishing high school at home, I boldly and full of curiosity dived into my international experience going first to Dortmund in Germany in September 2009, followed by Plymouth in England in September 2011 and Cheltenham in September 2012, back to Dortmund in February 2013, graduation in September 2013 and after that an exciting job in Düsseldorf, Germany. In December 2014, it was time for a new challenge and a new city and so I moved to Dublin, Ireland to join HubSpot as a Channel Consultant. Yes, I have been moving a lot, I know! My ultimate dream though is to buy myself an island somewhere nice and warm and write books on the beach all day!
But, let's now get back to my education first.
My education
I hold a Double Degree Bachelor in International Business from the University of Applied Sciences and Arts Dortmund (Germany) and Plymouth University (England). (Oh and in September 2015 I started my Professional Diplomad in Management from the Dublin Business School which I finished a year later - see, obsessed to learn.)
What does Double Degree mean? Well, briefly it means both a German and a UK education in one, combined with an internship of 20 weeks. It also means having to write two dissertations. In April 2012, I finished the first one on "The Impact of Social Media on the PR industry" and in July 2013 I submitted my second one about "The Power of Social Media as a Communications Channel for Creating Business Sustainability Value: a Support Tool or Menace?" Both dissertations have now been published as printed books and can be purchased throughout bookstores and online retailers globally.

My passion for social media and communications
My passion in social media and communications started in my first year of university thanks to a module in Marketing. I began reading and tweeting on both subjects. This is why I created this blog hoping to improve my writing skills and to network with people in the industry by sharing my university and work experiences as well as my thoughts on PR, social media, marketing, business and sustainability.
Before I dive into the specifics of what makes me who I am, there's one thing you need to know that drives all the things listed below – my motto:
"Never stop learning!"
Only so can we grow as individuals and professionals – that's what I firmly believe in.
Career woman
The first thing you need to know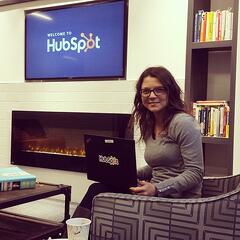 about me is that I am a career woman! I am very determined and I always follow my goals and dreams. I am a proactive and active person who just gets things done.
While studying for my BA degree, I've managed to gather considerable work experience in PR, social media and branding consultancies in Germany and in the UK (you can find detailed information on my LinkedIn and Xing profiles). After years of agency experience, including working at an aspiring and fast growing communications consultancy in Düsseldorf (Germany) called Brandzeichen, which is part of the Ketchum network, it was time for a change and so I made a significant career jump by joining HubSpot as a Channel Consultant in Dublin (Ireland) where I was promoted twice within less than a year and a half within the job and became the first ever Principal Channel Consultant in International for HubSpot. In May 2017, I became the first ever Global Partner Program Manager in the company too.
Crazy person
The second thing you need to know about me is that I am a crazy person. Yes, that's right. As Steve Jobs famously said:
"The ones who are crazy enough to think that they can change the world, are the ones who do."
I wholeheartedly aim to make a change, leave a mark, and make the world a better place. Take my passion for communications, social media and sustainability as a way towards creating a better business environment, which would in turn have a positive impact on society, and my strong desire to get us, women, ahead and on the same level as men when it comes to having a truly great career and equal opportunities at the workplace. I may be in my 20s, but I have big dreams.
Richard Branson shared a while ago on LinkedIn:
"Creators are never fully satisfied. They can always be better. They are determined to change the game for good."
I firmly believe I am a creator. I am never satisfied: I always want to know more, do more, get better. I have this inner thirst for knowledge – I never stop looking for new things to learn, create or develop and new inspirations to motivate me, drive my passions and help me make my dreams come true.
Writer and blogger
The third thing you need to know about me is that I am a passionate writer and a blogger. I may not be native in English or in German, but I enjoy writing in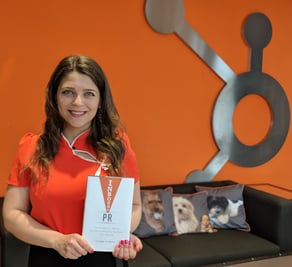 both, especially on the topics of communications and social media. As already mentioned, I am now author of two books: "Social Media and the Rebirth of PR" and "Social Media – Key for Sustainability Communications". I hope you check them out and find them useful.
In addition to that, I'm publishing my 2-years long work on Inbound PR as a book with Wiley - the biggest academic and business book publisher - which truly is a dream come true for me as I had never expected achieving this at the age of 28. "Inbound PR: The PR Agency's Manual to Transforming Your Business with Inbound" is out in April 2018 for the US market and in all boostores there and available online as of May 2018 everywhere else in the world.
From November 2012 till March 2013 I was a featured author for Muddywall – an online UK social media magazine – where my articles provided businesses with useful information such as trends, advice and how-to tips for the various social media networks as well as how to apply them in their overall marketing strategies. I've also written numerous blog posts and articles for the agencies and magazines I have worked for, which are all listed on my Portfolio & Press page. You can go and have a look; you might find something interesting to read. Oh, and just so you know, some of the articles are in German.
Workout addict
The fourth thing you need to know about me is that I am addicted to working out! Over the past six years I have worked out at least 5 times a week, every week. So far I've finished Shaun T's Insanity (dozens of times), Hip Hop Abs (several times), Rockin' Body (several times) and all three phases of Focus T25 multiple times as well as the pure strength hybrid of Focus T25 Gamma twice. My next challenge was a hybrid between Insanity and the Gamma phase of Focus T25 that I created myself and then I stepped into The Asylum, totally loving it! Asylum Vol. 1 and Vol. 2 are my absolute favourite workout programmes! Of course, I've also completed ShaunT's Insanity Max:30 and his dance programme Cize, simultaneously doing a crazy hybrid schedule between the original Insanity, Asylum 1 and 2 and Insanity Max30. I've also done MMA workouts such as Core de Force and Les Milles Combat repeatedly and recently finished ShanT's latest Shaun Week a couple of times.
And so with time, I've adopted a pretty healthy eating lifestyle and I've never felt better in my life! Having made those changes, I now have a lot more energy and I am a lot more productive. My brain just functions better.
Passionate dancer
The fifth thing you need to know about me is that I am a very passionate dancer! Any chance I get I dance Salsa, Bachata, Kizomba or Merengue. I discovered my love for Latin dance when I was living in Plymouth and since then I try to never miss a dance party because it's so much fun! I also travel to salsa congresses and in doing so, I discover new countries and cultures and meet a ton of people from all over the world.
Courageous explorer
And finally, the last thing you need to know about me is that I am always open to new challenges and I want to gather work and life experience all over the world. Seriously, I am ready to pack and jump on a plane because I know I would love it, but most importantly because I know I can do it!
I am always happy to connect online so why not just come and say "Hi" on Facebook, Twitter, Google+, Pinterest and Instagram. I'd love to hear from you!