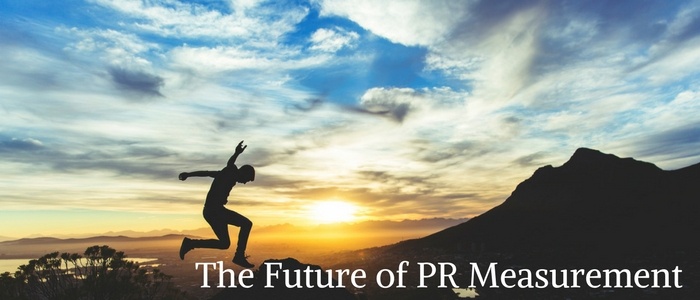 "Measuring the effectiveness of PR has proved almost as elusive as finding the Holy Grail."
That's a quote by John Pavlik I found in an extensive paper on PR metrics while researching this whole PR measurement drama lately.
Through this research, I've found that there have been a number of frameworks and tools to get PR people to measure their results. None of them have been adopted, though.
According to the 2016 Global Communications Report from the Holmes Report, current measurement models are still alarmingly focused on measures of outputs – such as total reach or total impressions – rather than on business outcomes. Social media measurement is equally unsophisticated.
These metrics don't really tell you anything unless you can very specifically tie them back to how they've boosted your bottom line. It's because they are looking at it from the wrong, broken perspective because these are outputs, not outcomes. Business owners and CEOs want the real numbers, they want actual proof of ROI (Return on Investment) which often is increase in sales because it's tangible.
ROI, however, has always been difficult to show with PR.
When you add the Inbound PR philosophy, though, it becomes possible – you know very well how your blog posts perform with regards to views and shares, the same goes for your landing pages and the conversion rates you get there, you know how many people open your emails and click on the links in them, you can track the entire journey of those website visitors and know when they become customers. What better way of proving the return on PR activities than tying each piece of content to a customer?
I've already given you an example of how to apply Inbound PR to the Barcelona Principals. As much as I like them, I still feel they are more of a guidance rather than an actual framework so today I'd like to apply the Inbound PR framework to AMEC's Interactive Measurement Tool that I feel might be easier for PR people to adopt.
7 Steps to Measure Inbound PR
#1 Objectives – what you want to achieve, for the organisation and for your communication
As mentioned above, CEOs want ROI, so they want more sales. Your objective then should be to influence or create an increase in sales for the organisation. To break that down a little bit, with Inbound PR (which is highly digitally driven) your goal should be to deliver an agreed number of marketing qualified leads (MQLs) to the Sales team who will then close these leads into customers. To do this, you need to set objectives for all communication that you are going to do to get there, for example a very specific number of visits generated through your content, leads converted thanks to your ebooks, referral traffic thanks to media placements etc. All of this is, of course, based on the number of MQLs you need.
#2 Inputs – what you need in preparation for communication
In here, you need to have your target audience or buyer persona defined. Basically, who are those MQLs? What are their challenges, pain points and goals? What are their demographical factors as well as behavioural attributes? How can you design your Inbound PR activities to reach them with the content that they would be interested in. In addition, you also need a definition of an MQL that is agreed upon with the Sales team because each can have very different ideas of what an MQL needs to have done on your website to be a good fit for Sales.
#3 Activity – things you do to plan and produce your communication
Knowing that you need to deliver a certain number of marketing qualified leads within a defined target audience, by when and in what frequency, here's where you plan your Inbound PR campaigns and everything included in them to get to that number, organised around an appropriate timeframe. Your entire strategic plan comes in here – your content plan based on your numeric goals, campaigns (ebooks, events, surveys), email marketing, basically everything around PESO that you need to do to achieve the objectives.
For example, this month you need 30 MQLs and you are starting from scratch so you need to first attract people to your website via the relevant PESO channels such as blogging and social media (i.e. owned and shared media) and influencer/blogger relations or some press releases and magazine pieces (i.e. earned media), then showing these people a call-to-action to lead them to a landing page where they will fill out a form with their contact details and become a contact in your database for the first time; after that you will engage further with them with more content and emails and based on their response to those second and third touchpoints, you'll determine if they are qualified enough to go to Sales. (That was a simplified example, but just to explain the thought process.)
#4 Outputs – what you put out that is received by target audiences
To analyse results, you need a clear picture of what you've done and all the tactics you have used. This is where you list all of these actions, for example number of blogs posts, emails, press releases, newsletters, social messages etc. It's about the mass here rather than the quality or the effects. You still need to track these so that you know how much or how little you are doing.
#5 Out-takes – what your audiences do with and take out of your communication
Here's where you count things like visits, followers, shares, retweets, comments, subscribers, clicks, open rates etc. This is about how your audience has initially reacted and responded to your communication efforts. It's more about your top of the funnel growth rather than nurtured leads.
#6 Outcomes – effect that your communication has on your audiences
Outcomes is where we learn what effect your Inbound PR efforts have had on the audience. What you should really be measuring here is increase in traffic and traffic sources, generated leads, best converting content and tactics, increased referral traffic from influencer and media relations, endorsements, number of actual MQLs generated and how all that has developed week-by-week, month-by-month. Trends and insights are important as they allow you to make informed decisions about your next campaigns. This is why you need a holistic view of what's working to constantly measure, optimise and get better.
#7 Impact – the results that are caused, in full or in part, by your communication
And here we solve for ROI. Did Sales close some customers from those awesome 30 MQLs we gave them? How can we link this back to the starting point of bringing people to the website through blogging and media relations, converting them into leads, nurturing them into MQLs and passing them onto Sales? Did any of those MQLs bring to us other MQLs through referrals and endorsements and has this improved our reputation?
With Inbound PR, PR is taking over a lot of the more traditional marketing activities but that's only natural and makes total sense – PR people excel at content and it is good, quality content that converts unknown visitors into leads. There are no good leads without good content.
To measure its results, PR needs to be aligned with Sales. It's hugely important that everyone is on the same page and is working towards the same goals with a clearly defined funnel.
The future of PR measurement is practicing Inbound PR because by using the inbound philosophy you start with the numbers that matter to the whole organisation. Often these numbers are sales numbers.
Want to get started with Inbound PR? Get your free guide here!